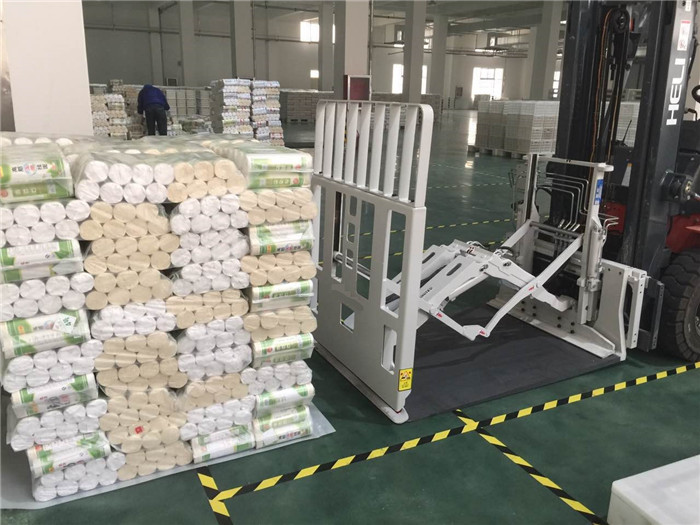 Push Pull Products introduction.
---
Push Pull is a very usefull forklift attachment.Palletless handling cargos in a unit by utilizing a cheap slipsheet.This forklift attachment can save an expensive pallet and reduce damage to cargo during handling. Forklift Push is only have a push action forced by hyraulic.It is proper for loading cargo in unit,baged and boxed. Forklift Push Pull have two actions one is push as we talked above and the other is pulling. Push Pull is good at cargo loading and diacharging.The push pull forklift attachment are used in various industries such as food, beverage, glassware, building material, agricultural, paper, chemical and the automotive parts industry.Custom push pull attachment is available.Please consult our Riggerte sales if you have any questions.
video
---
N. ordine catalogo
Capacità@
Load Center ([email protected])
Classe di montaggio
Platen Size        WxL (mm)
Stroke (mm)
Minimum Truck Carriage Width  (mm)
Centro di gravità verticale VCG (mm)
Effective Thickness              ET(mm)
Horizontal Center of Gravity        HCG(mm)
PPQ-1.6TE-B455
[email protected]
II
455x1220
1270
790
300
165
235
PPQ-1.6TE-B380
[email protected]
II
380x1220
1270
790
300
165
220
PPQ-2TE-B455
[email protected]
II
455x1220
1270
790
300
165
260
PPQ-2TE-B380
[email protected]
II
380x1220
1270
790
300
165
245
Forklift attachment Push Pull Features
---
High visibility pantograph, gripper jaw and faceplateFull bottom taper/adjustable platens4° tilting faceplateChamfered platen corners and gripper jaw design protects the slipsheetHigh strength, rigid pantograph for safe load packingT-1 steel platens"Cushion" cylinders reduce operating noiseSimplified hydraulic circuitSideshift J-plate is automatically engaged when the push/pull is set on the truck carriageNo false carriage is required on quick disconnect modelsSideshift function is available for custom.
Forklift attachment Push Pull Options
Quick-change hydraulic couplers
Extended face plates
Extended push strokes
Face plate and platens sizes are optional
Attachment mounted solenoid adaption group
Forks and multiple fork groups
Class III mounting
Forklift attachment Push Pull Warranty Policy
Tutti i nuovi prodotti di Riggerte (Xiamen) Forklift Truck Attachment Co., Ltd, inclusi accessori, forchette e parti di ricambio, sono garantiti per 12 mesi dalla data di consegna al corriere principale o per 2000 ore di funzionamento, a seconda della scadenza che si verifica per prima. Per ulteriori dettagli sulla garanzia, non esitate a contattarci.
Forklift attachment Push Pull Product selection suggestion
In case that customers don't know which model is proper.Please send an inquiry to Riggerte Sales.It would be much better if you can provide the following items in your inquiry.
Brand and model name of forklift truck that you are going to install a push pull attachment.
We need to know the forklift truck loading capacity,hydraulic flow pressure and functions.
Cargo unit packing information including gross weight,unit packing dimension,and cargo materials. As much details as you can offer. Forklift truck working conditions.
---